Zoom One is a brand new offering that brings together persistent chat, phone, meetings, whiteboard and more into a single, secure, scalable and easy-to-use package.
Zoom One bundles everything needed to communicate and collaborate with internal and external teams. Have face-to-face interactions over video, place a call from your mobile device, brainstorm on a whiteboard, and send files over chat – all from a single solution. The intuitive user experience makes it easy to get users onboarded and simplifies management.
Secure and scalable, Zoom One enables staff to work safely from anywhere and grows to support your business needs. With over 1,500 apps and integrations, you can seamlessly integrate these into your existing business processes and reduce app fatigue.
Why Zoom One?
Simple
It's easy for you to purchase, get started, and use. With smart features and an intuitive user experience, you'll save time, reduce costs and increase productivity.
Flexible
Zoom One gives provides multiple plans to choose from so you can support your unique needs. It's also extendable with options for Zoom Webinars, Rooms and Events as well as additional calling plans, integrations, hardware and more.
Transparent
The inclusive bundles come without hidden fees or the need for a bunch of add-ons. You can add users as needed and benefit from new monthly released features.
What's included?
Zoom Meetings
Bring teams together over video with smart features that make it easy to share information and look and sound your best.
Zoom Chat
Group and 1:1 messaging to keep projects moving outside of calls and meetings with file sharing, integrations and more.
Zoom Whiteboard
Brainstorm, share ideas, and plan with a virtual whiteboard that works across devices and products.
Zoom Phone
Place and accept calls from your desk phone, mobile or softphone, send SMS texts, and manage multiple calls at once with ease.
The Power Of An All-In-One Solution
● One app for you to meet, chat, talk, and collaborate from
● Work from anywhere with support for softphone, web, desktop, and mobile
● Manage all of your tools from a simple, web-based portal
● Elevate a chat to a meeting or phone call to get answers fast
● Swap between your desktop and mobile app with a single click
● Send a video voicemail or message for asynchronous communications
● Share a whiteboard in a meeting and send it afterwards via chat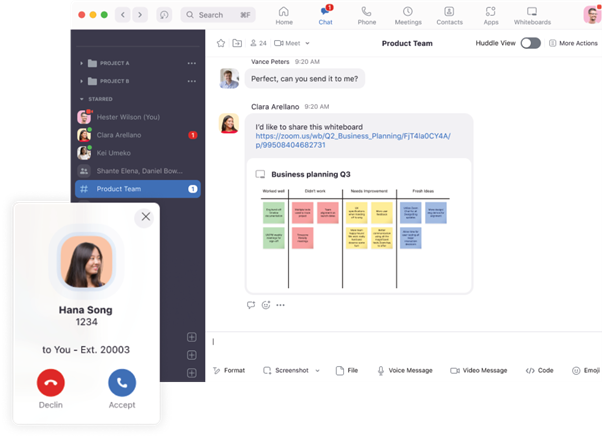 Work In The Ways You Prefer
● Minimise the need to flip between applications with access to the vast Zoom marketplace
● Partnerships with leading hardware providers for desk phones, headsets, cameras, conference room support and homes
● Support for other Zoom products such as Rooms, Webinars, Events, and Contact Centre
● Developer tools, APIs, and SDKs to plug your favourite Zoom solutions into your unique workflows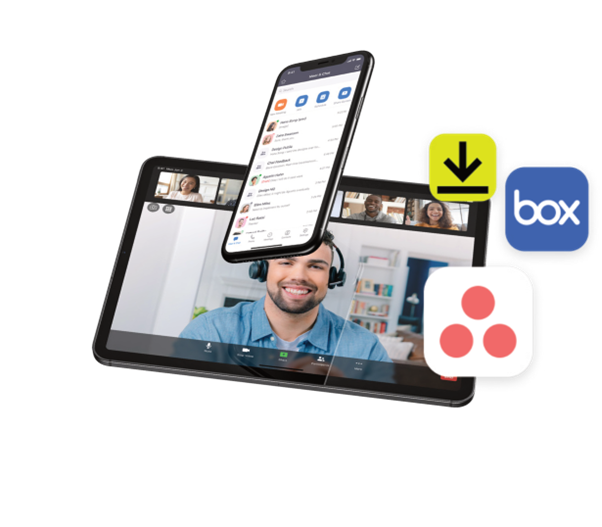 Share Information Securely
Enterprise-grade security and compliance
Security
Safely share files with the ability to enable advanced chat encryption and simplify password management with SSO and multi-factor authentication.
Compliance
Industry-recognised certifications and attestations such as SOC 2 and controls that help enable customer compliance with GDPR, FERPA, and HIPAA.
Data Storage & Privacy
Real-time settings give you the ability to decide where things are stored and how long they're stored for, plus admin restrictions and external contact permissions.
Why Marlin?
As a Zoom partner, we're able to manage your Zoom licenses on your behalf!
We're also able to simplify management, reduce your costs and increase your productivity by providing you with all the benefits of a single provider for all of your requirements including Voice, Video, Connectivity, Security and Mobile business needs.
Already using Zoom? Consolidate to a single supplier for all your needs, contact us on 0800 032 8274 or request a callback here. 
About Marlin
Marlin is an award-winning, leading provider of Unified Communications & collaboration solutions including voice, data, mobile, video, network security and contact centre technology for businesses of 50 – 5,000 staff.
We have clients across the UK and in Europe and our own, on-premises, 1,000 ft² Technology Suite at our Bath office, where we host regular events and showcase technology solutions for our clients. Contact us for your free comms audit or product demo.
Get the latest tech news & reviews – straight to your inbox
Sign up to receive exclusive business communications, tech content, new tech launches, tips, articles and more.