This month Microsoft releases new features to make meetings run a little smoother and chats more efficient. The new release includes updates to meeting functionality, the latest Android updates and the latest certified Microsoft Teams Rooms devices.
Meetings
Updated Companion Mode For iOS Users
You can now join a meeting with a single tap both on your iOS device and Microsoft Teams Rooms. The audio on your device will be automatically turned off to ensure an echo does not occur. The experience on iPhone will be optimised for interaction activities to make it easier to raise a hand, react, see all participants and access Microsoft Whiteboard. In addition to joining a meeting, it is now easier to access meeting and device controls including the ability to cast a PowerPoint and turn rooms on and off.
Pin Or Hide Your Own Video In Teams Meetings
The ability to pin your own video has now been extended to the meeting stage. So, you can now see your own video in the increased size on your screen. It is also possible to hide your own video during a meeting on others' screens. This helps reduce distractions during calls while still having your video available for other participants. To pin or hide your video, simply click on the ellipsis '…' in your video feed and select 'Pin for me' or 'Hide for me'.
Support For Open-text Question Poll For Teams Meetings
For Microsoft Forms polls in Teams meetings, there is now a new option for engaging with attendees – the 'Word Cloud Poll'. This type of poll can be used to collect attendees' open-ended responses before, during, or after a meeting, and the results will be automatically aggregated and displayed as a word cloud.
Calling
Walkie Talkie On Teams Phone Devices
The Walkie Talkie feature on Teams phone certified devices allows you to instantly push-to-talk with colleagues by pressing and holding a button to speak to colleagues and then releasing the button to listen. Note, Walkie Talkie on Teams phone devices can only be used to communicate with colleagues that are part of the same Teams channel. To enable Walkie Talkie, add Walkie Talkie to the App Set up Policy assigned to users from the Teams admin centre. Learn more.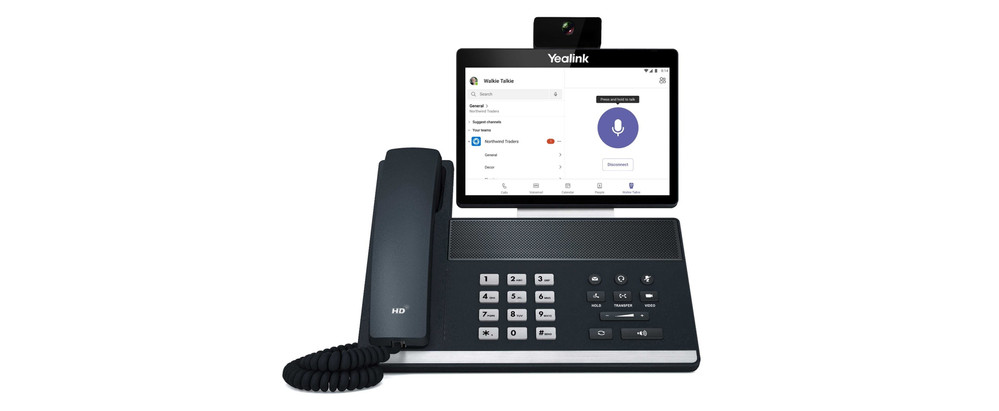 Devices
Teams Panels Check-in And Room Release
To ensure meeting spaces get the maximum usage, IT admins can now configure Teams panels to release reserved conference rooms that are not being used – freeing up space for others to use. Meeting attendees can claim their reserved meeting room by tapping the "Check-in" button on the panel. If no one checks into the room, it will be released—allowing for others to reserve and use the room.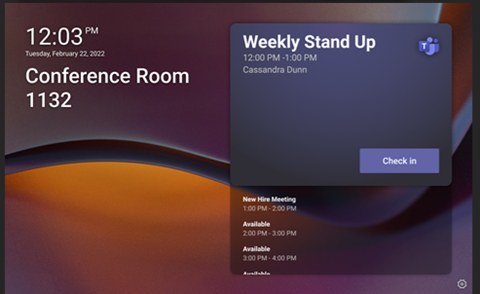 Check-in "Knock-Knock" Notification On Front-of-room Display
When a Teams panel is paired with Microsoft Teams Rooms, the new "Check-in" button on the room panel can be used to send a notification to the front-of-room display—informing people in the meeting room that their reservation has ended, and others are waiting for the space.
Microsoft Teams Rooms Android Update
The latest Teams Rooms on Android update has been released with features that included improved meeting experiences, content sharing, new reactions and more. The update can be deployed via the Teams Admin Centre and will be available in all Teams Rooms on Android devices.
Meeting Improvements
This update provides better meeting experiences in Teams Rooms on Android—with more videos on the screen, multiple spotlighted participants, new reactions, and many others. The most notable addition is the new and improved meeting experience, videos of remote participants span both screens (in meeting rooms with dual screens) when content is not being shared.

Wallpapers
Customisation for the home screen on Teams Rooms for Android has been improved with five built-in wallpapers. These wallpapers apply to the front-of-room displays in single and dual-screen configurations. IT admins can now set them from device settings, with Teams Admin Centre support coming soon.
HDMI Ingest & Sharing
HDMI ingest sharing during and outside of a meeting is now available to all capable certified Teams Rooms on Android. You can now plug in an external device via HDMI into your Teams Room on Android and content will start sharing automatically. To stop sharing, just press the 'Share' icon on the call controls or home screen.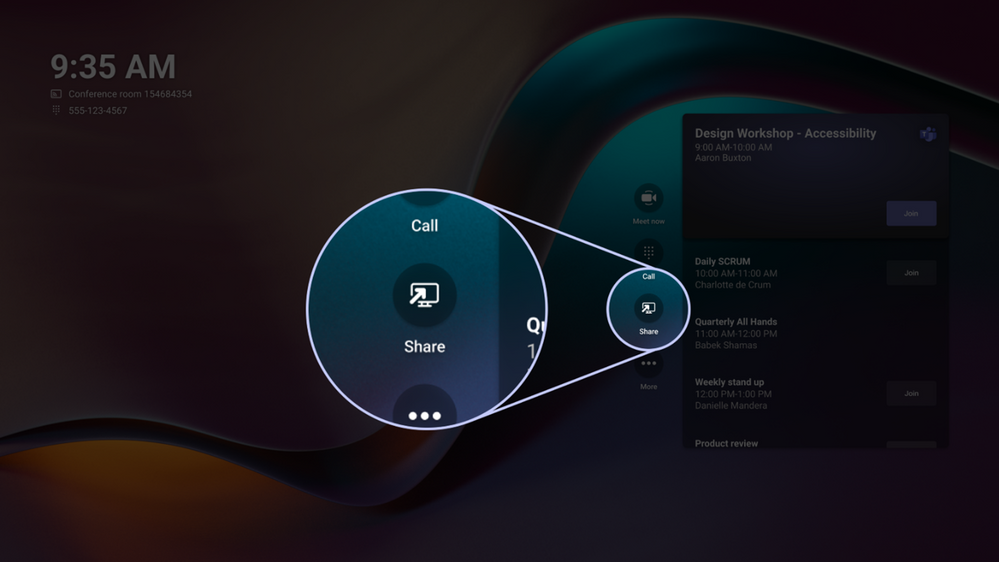 Far End Camera Control
Remote meeting participants can now control the zoom and orientation of a camera in Teams Rooms on Windows, using 'PTZ' Camera Controls (pan-tilt-zoom) during a meeting. Attendees can control a variety of mechanical pan-tilt-zoom cameras by sending control signals to the camera. IT admins can determine which Teams Rooms are enabled for far end camera control and the PTZ Camera Controls can be added to any meeting providing IT administrators have enabled the app for the tenant's app store.
Latest Certified Devices
Yealink UVC34 All-in-one USB Video Bar
This device integrates a 4K AI-driven camera, built-in 8 microphone array, and 5W high fidelity speaker in one unit. UVC34 enhances Teams experiences for remote attendees by delivering high-quality and engaging video, as well as, audio that lets you hear and be heard clearly without distraction. It also easily plugs into your laptop with no extra drivers and software needed. Learn more.
Yealink MVC340
The MVC340 solution bundle is a simple and efficient way to set up and manage a Microsoft Teams Rooms system. Packaged with the UVC34 all-in-one USB video bar, MCore mini-PC, and MTouch II touch panel, these devices bring a seamless Teams experience to your meeting space. Features of this bundle include 4K resolution, 120° wide-angle lens, and built-in speakerphone fully covering small spaces.
Chat & Collaboration
Pairing The Channel And The Corresponding SharePoint Folder Name
When renaming a Teams' channel, the corresponding SharePoint folder will be renamed and reflect the new name. This new update helps create consistency across Microsoft 365 endpoints, making it easier for users to find their files from anywhere.
This new feature will be available for all Standard and Private channels. For Standard channels – The corresponding folder in SharePoint will be renamed. For Private channels – The corresponding site name and the folder in SharePoint will be renamed. For legacy Teams channels that were renamed prior to this rollout, there will be no change in experience. When a legacy channel is renamed after this release, it will simultaneously rename the corresponding SharePoint folder.
Mute Notifications During Meetings
Users will be able to mute notifications during meetings thereby helping focus during meetings. A user can choose to mute notifications for all meetings or per meeting basis. To turn off notifications during all meetings, go to settings -> notifications-> meetings and calls and toggle the Mute Notifications during meeting button. To turn off notifications during a specific meeting, click on the ellipsis and choose mute/allow notifications.
Stay Up To Date With Microsoft Teams – Free Download
Microsoft is constantly adding new and updating existing features to Microsoft Teams.
If you'd like your business to benefit from Microsoft Teams and the added system integrations that can save time and money, download our short 'SuperCharge Microsoft Teams' guide here or contact us for a free 15-minute consultation and find out how we can support your business with Microsoft Teams. Call us on 0800 032 8274 or book a discovery call here.
About Marlin
Marlin is an award-winning, leading provider of Unified Communications & collaboration solutions including voice, data, mobile, video, network security and contact centre technology for businesses of 50 – 5,000 staff.
We have clients across the south of England and in Europe and our own, on-premises, 1,000 ft² Technology Suite at our Bath office, where we host regular events and showcase technology solutions for our clients. Contact us for your free comms audit or product demo.
Get the latest tech news & reviews – straight to your inbox
Sign up to receive exclusive business communications, tech content, new tech launches, tips, articles and more.