This month Microsoft releases new features to enhance the way you work with meeting invites. The new release includes updates to Direct Guest join, VDI performance, Teams Rooms, Video Filters, Approvals App and Presenter Mode.
Teams Meeting Rooms
Direct Guest Join with Microsoft Teams Rooms on Android
Zoom meetings can now be joined directly through Microsoft Teams Rooms (MTR) using Android devices. In order to use this feature, schedule a new meeting via Zoom or forward an existing meeting to your MTR, and it will appear on the calendar. Click the "Join" from your Teams Rooms device in order to enter the meeting. Currently, support is limited to controls such as camera and microphone but additional functionality will be integrated in the future. Devices that are currently supported are only the Poly Studio X30 and Poly Studio X50, though there will be support for additional devices and device manufacturers in the future.
Horizontal participant gallery view
The meeting stage can now be oriented to a horizontal view and positioned below the meeting stage when content is shared, or participants are spotlighted. It is possible to change the location of the participant gallery through the layout chooser experience on the Teams Rooms console.
Performance
Adjusting brightness and focus video filters
If you are suffering from poor lighting, you can now enhance the video quality by turning on the Adjust brightness filter. You also can use the Soft focus option to apply a subtle smoothing effect. Both of these filters are now available before joining meetings, as well as during meetings. To enable these filters navigate to the device settings. Currently, Soft focus is not available for EDU tenants.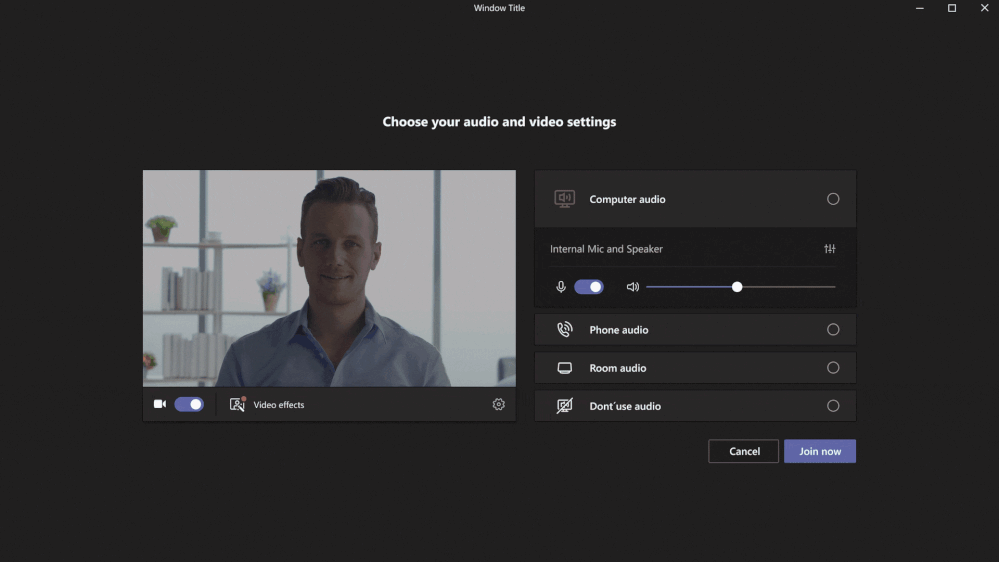 Together mode for everyone
Together mode creates a virtual shared space where attendees feel like they are sitting in the same room with each other. Meeting organisers and presenters can now start 'Together mode' for all of a meeting's participants whereas previously, this view could only be enabled for your own personal view. To enable this feature, simply check the 'Select Together Mode for Everyone' option after you choose a scene. All meeting participants can then join the immersive experience together. Currently only available for Teams Desktop users.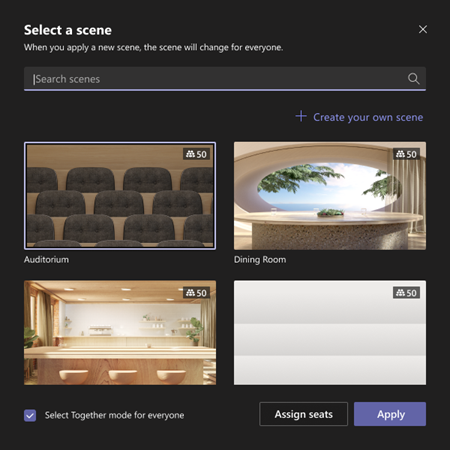 Multi-window support for Teams – VDI for Azure Virtual Desktop, Windows 365 & VMware
Teams multi-window support is now available for virtual desktop infrastructure (VDI) for Azure Windows Desktop, Windows 365 and VMware. The multi-window capability provides your users with the option to pop out chats, meetings or calls into separate windows to help streamline their work. Additionally, meeting and call controls such as mute, video, chat, and leave are now positioned at the top of the meeting window so they are always available and will never block the underlying content.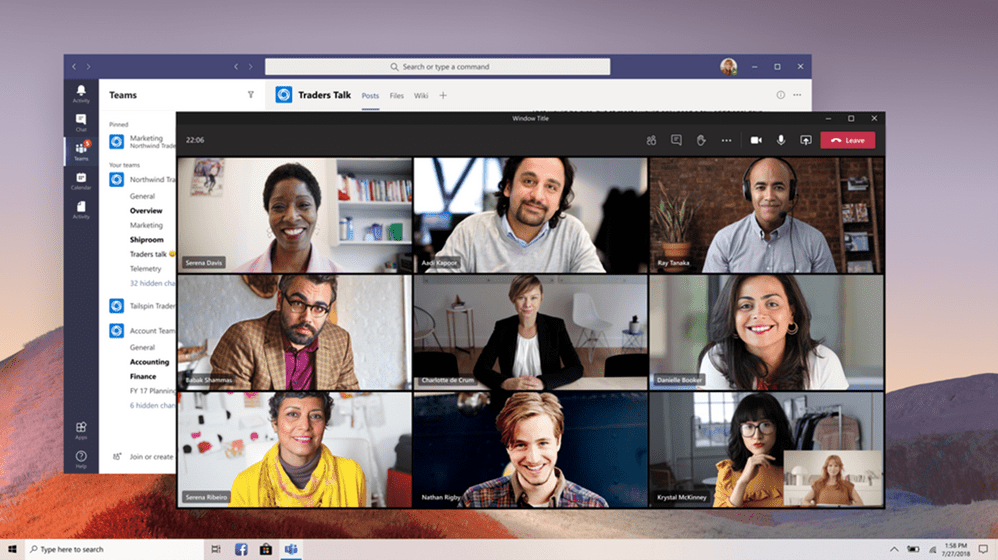 To verify multi-window is on, right-click on any chat. If 'pop out chat' is shown in the options, multi-window has been turned on.
Give and take control of Teams via VDI for Citrix
Give and Take Control for Microsoft Teams is now available on VDI for Citrix. Give and Take Control allows meeting attendees to control the presenter's shared content during any screen-sharing. The presenter can give control of the shared content to another meeting participant to take actions such as present or modify files. Both the presenter and the meeting participant have control of the sharing, and the presenter can take back control at any time.
Meeting participants can request control while another participant is sharing content. The participant sharing content has the option to approve or deny the request. When the requester has control, they can select, edit, and make other changes to the shared screen.
Background Blur for VDI
Background blur effects are now available for VDI on Azure Virtual Desktop and Windows 365. Users on Teams for VDI on Azure Virtual Desktop and Windows 365 can now make meetings more personalised and avoid background distractions by applying background effects such as blur or one of the available images. You can refer to Change your background for a Teams meeting on how to turn on background blur.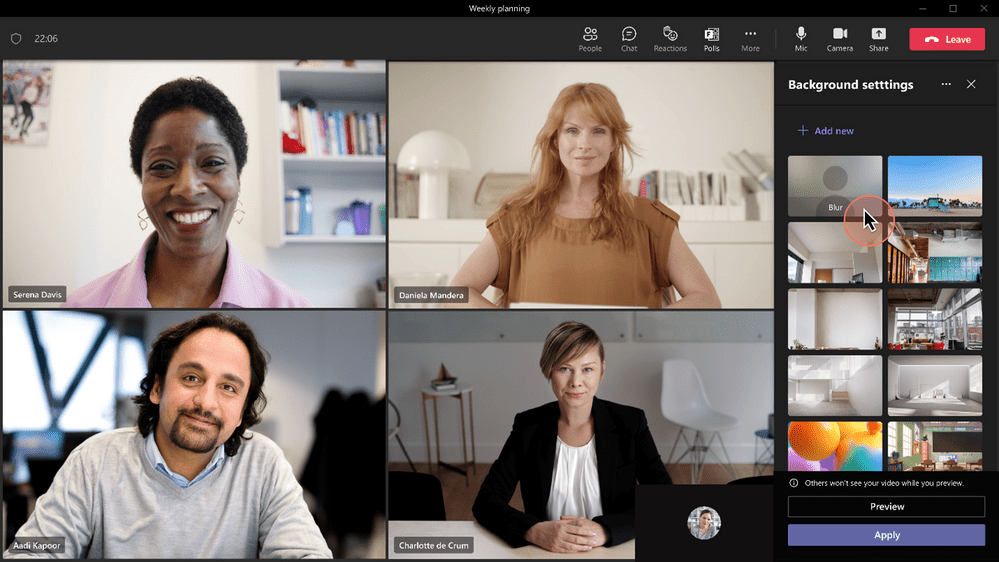 Dynamic Emergency Calling for remote work on VDI
Dynamic Emergency Calling is now enabled for Teams on VDI (for VMWare), allowing users to make emergency calls (E911) while working from home or remotely. The capability also allows users to validate (and if necessary, edit) the address that will be communicated to emergency responders in case they are working somewhere other than their home address. Learn more about how to configure dynamic emergency calling.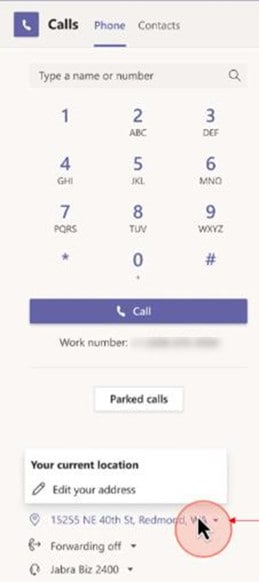 Chat & Collaboration
New language support for Suggested Replies on mobile
Suggested replies are now supported in the following languages; Spanish, Dutch, Portuguese, Swedish, French, Finnish, German, Hungarian, Italian, Chinese, Hebrew, Japanese, Norwegian, Russian, Korean, Czech, Danish, Turkish, and Polish. Auto-replies are on by default but can be turned off through settings.
Select your own status for each meeting
Organisers and participants of Teams meetings can choose a 'Calendar Show As' status feature such as free, busy, or do not disturb to reflect their status for scheduled meetings. As well as this, organisers can now select private meeting functionality, which allows users to hide meeting details from other users when their calendar is shared.

Mandatory Comments for Approvals App
Teams admins and approval template creators can now enable mandatory comments for when an approver responds to a request. To make this change, Team admins can go through the Admin Center under Managed Apps and select the corresponding setting.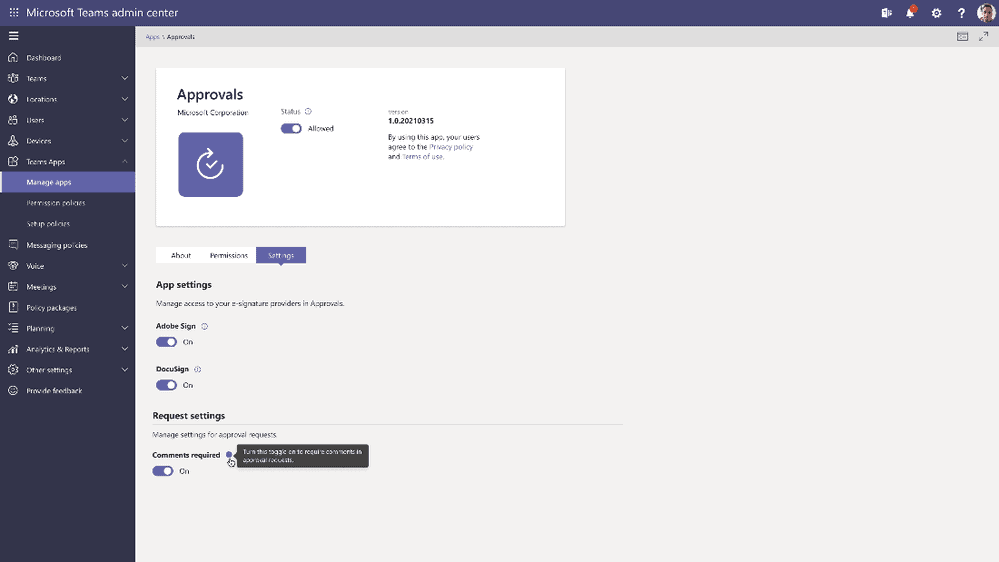 Data export within Approvals App
Through the approvals app, you can now export your personal approval data into an Excel file with a predefined time period.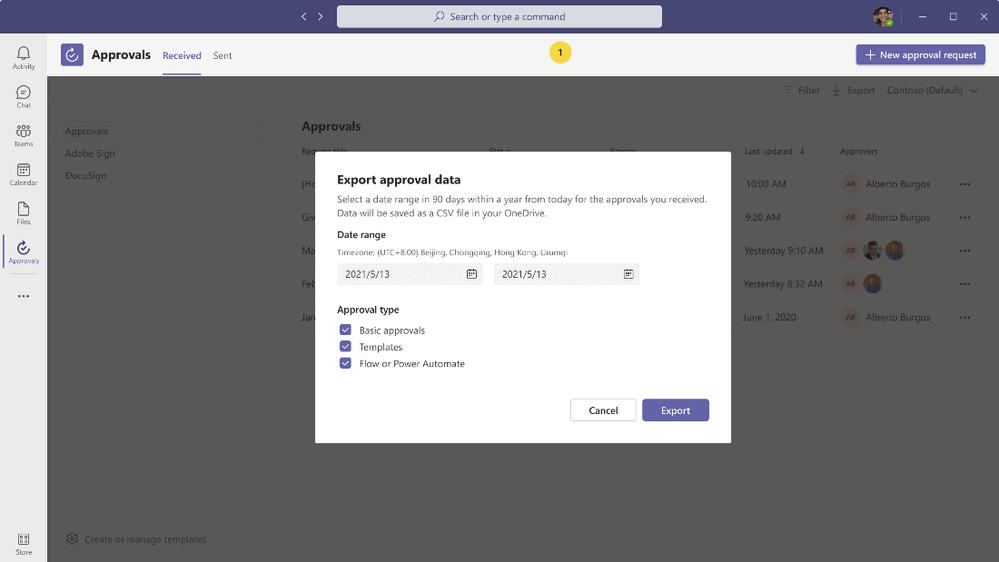 Management
Enhancement to app usage report – support for Line of Business apps
The Teams app usage report has been updated with support for Line of Business apps in alignment with Teams app usage in M365 admin center. This can help admins track all app usage metrics over time.
Policy operations details in the enhanced activity log
Admins can now see group policy assignments in the activity log along with other policy operations, such as batch policy assignments. The activity log now includes further information regarding policy operation to give admins more visibility. New columns such as group name, policy type, policy name, submitted by, and overall status have been added for enhanced details of a policy operation. Learn more.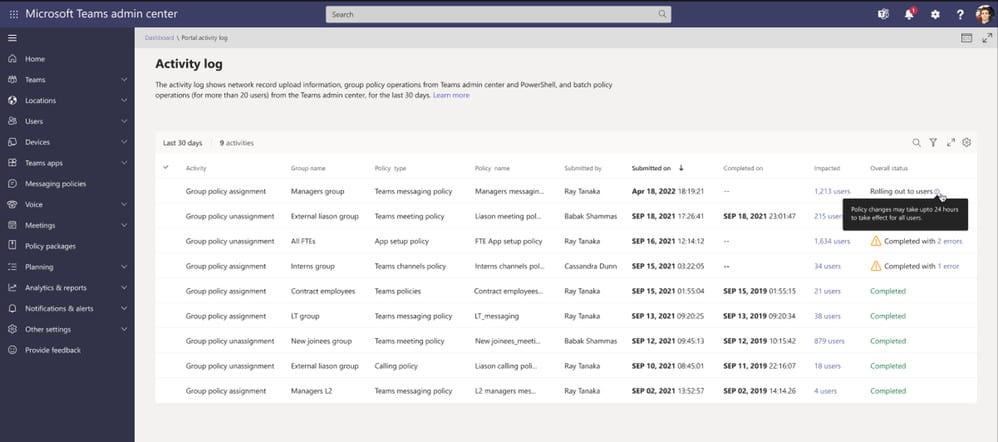 View a Custom app's external app ID
External app ID is an app identifier defined during app creation. It is only applicable for custom apps. You can now view the external app ID on the Manage apps page when you enable the column from the column settings. This can also be viewed on the app details page for a custom app.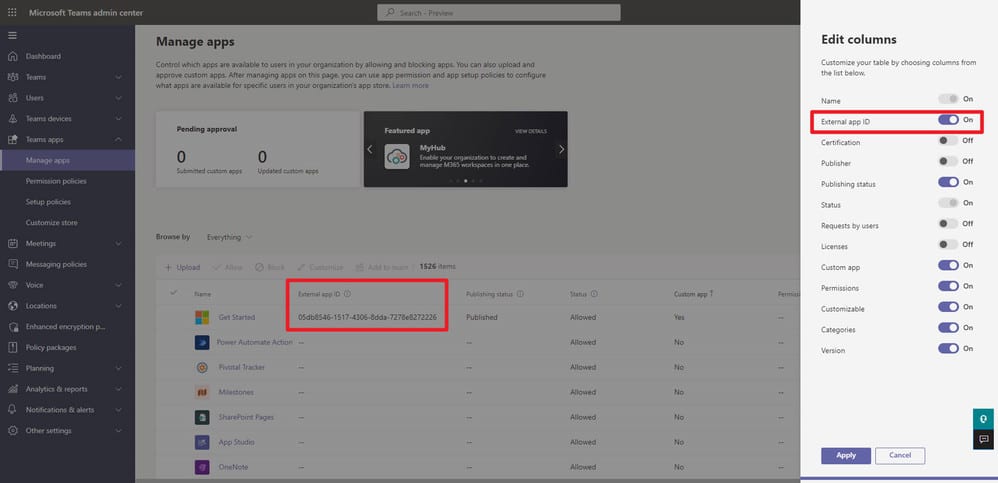 Stay Up To Date With Microsoft Teams – Free Download
Microsoft is constantly adding new and updating existing features to Microsoft Teams.
If you'd like your business to benefit from Microsoft Teams and the added system integrations that can save time and money, download our short 'SuperCharge Microsoft Teams' guide here or contact us for a free 15-minute consultation and find out how we can support your business with Microsoft Teams. Call us on 0800 032 8274 or book a discovery call here.
About Marlin
Marlin is an award-winning, leading provider of Unified Communications & collaboration solutions including voice, data, mobile, video, network security and contact centre technology for businesses of 50 – 5,000 staff.
We have clients across the UK and in Europe and our own, on-premises, 1,000 ft² Technology Suite at our Bath office, where we host regular events and showcase technology solutions for our clients. Contact us for your free comms audit or product demo.
Get the latest tech news & reviews – straight to your inbox
Sign up to receive exclusive business communications, tech content, new tech launches, tips, articles and more.