Our regular monthly Microsoft Teams update for the month of October. This release includes the new Microsoft Teams application and updates to Microsoft Teams Phone, Mobile, Rooms & Teams Devices.
Microsoft Teams Application
As of October 5, 2023, the new Microsoft Teams app for Windows and Mac is generally available. The new Microsoft Teams is the fastest version of Teams yet, rebuilt from the ground up. In the new Teams, you can switch between apps, respond to chat messages, and join meetings and calls more quickly while using less battery and memory. Launch and navigate in fewer clicks, with the same layout you're used to.
Start using the new Teams
To get started using the new Teams, flip the toggle next to Try the new Teams in the upper-left corner of the classic Teams app and then select Get it now from the pop-out dialogue and the new Teams will start installing.
Your Teams app will reboot to open the new Teams. Any subsequent actions you take will happen in the new Teams by default, like joining a Teams meeting from Outlook.
When in the new Teams, turn on (or off) notifications by selecting Settings and more at the top of the new Teams, then selecting Settings > Notifications > Open Windows notifications settings. Find Microsoft Teams (work preview) in the apps list and set your preference.
Enable the new Microsoft Teams for your organisation
As Microsoft Teams administrators, there are several options to assist your users in upgrading to the new Teams experience. Before you get started, you will need to review your organisation's processes, the status of your computers and ensure that the prerequisites are met for a smooth upgrade.
Find the prerequisites and a detailed guide to upgrade paths here.
Teams Phone
Shared calling allows Microsoft Teams admins to easily enable groups of users to make and receive PSTN calls using a shared phone number and calling plan. Users enabled for shared calling will be equipped with the full set of Teams Phone features and experiences. The new Teams Phone feature provides an alternative way to enable calling for users who call external contacts less frequently. Shared calling is available to users with a Teams Phone license through either E5 or Teams Phone Standard.
Learn how to deploy and manage shared calling for Teams Phone.
Teams Phone Mobile is now available in the UK
Teams Phone Mobile enables organisations to integrate mobile calling with Teams for flexible, productive, and secure mobile communications. Teams Phone Mobile is now available in the United Kingdom through BT.
Learn more about Teams Phone Mobile.
SIP Gateway is now compatible with more analogue devices
Analogue devices from Cisco, Poly and AudioCodes are now able to connect to Microsoft Teams via SIP Gateway, allowing organisations to preserve their investments in existing SIP devices.
Learn more about benefits, requirements and compatible devices.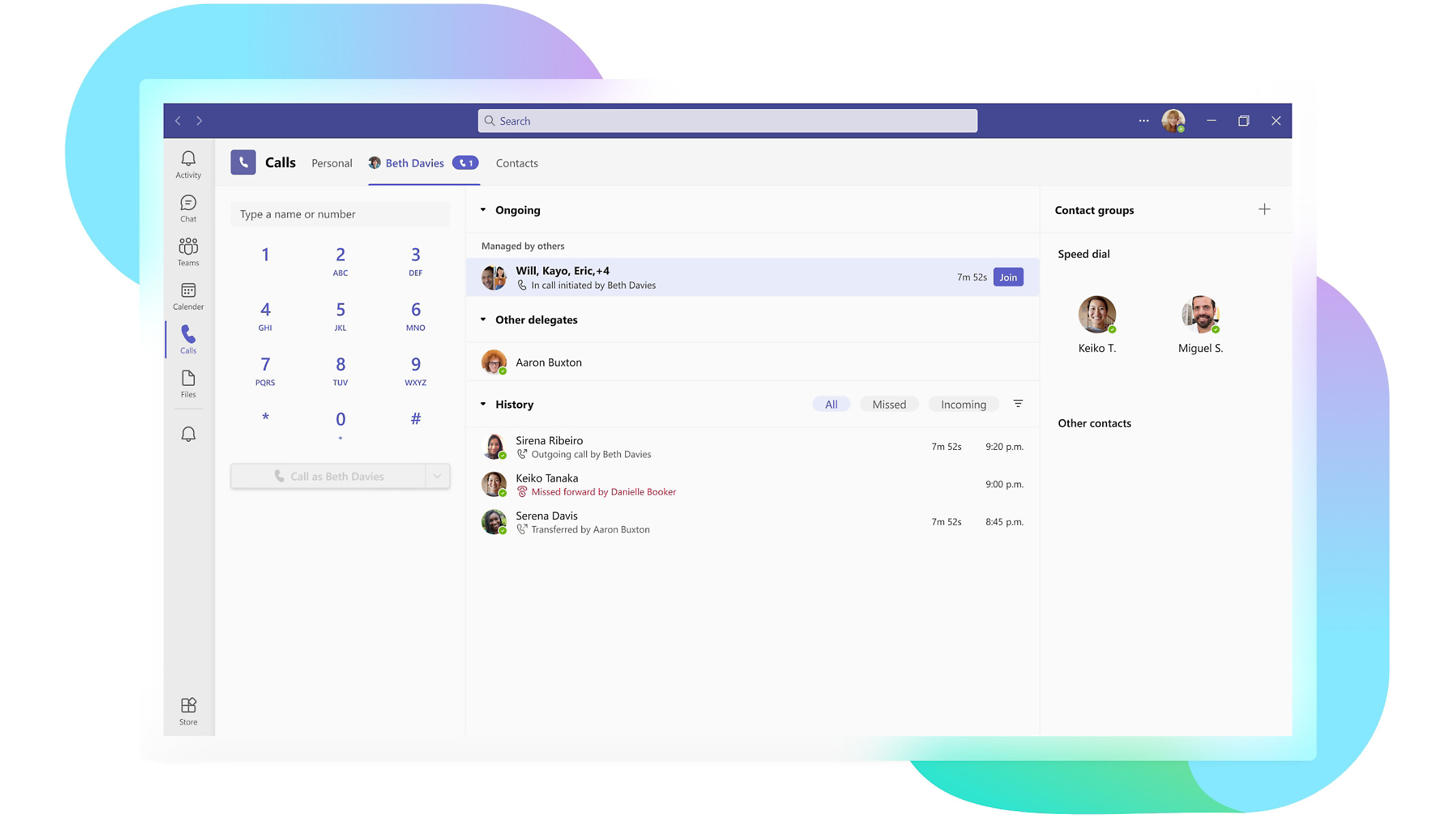 Microsoft Teams Mobile
Remove Teams call and meeting details from mobile device call logs
You can now choose if you want to keep or remove your Teams call and meetings history details in the call log of your iOS device. You can set the preference in Calling settings in the Teams mobile app.
Microsoft Teams Rooms and Devices
DTEN Mate Touch Console for Microsoft Teams Rooms on Android
The newly certified for Teams DTEN Mate (PoE) offers a professional and user-friendly solution for meeting room control as a Microsoft Teams Rooms console. The intuitive touchscreen operation allows you to easily launch meetings, manage participants, schedule room resources, and more with a simple tap. Installation is easy with networking and power provided through a single PoE cable, ensuring a hassle-free setup and a clutter-free system design.
Aver CAM570 Camera for Microsoft Teams Rooms on Windows
The Aver CAM570 is a PTZ conferencing camera, with premium-grade features that enables you to deliver in-person meeting experiences to remote participants. Features include; a 4K dual-lens camera with 36X total zoom and an AI lens with a 95-degree field of view. Aver's beamforming technology guides the PTZ camera to focus on the most relevant activity in a meeting, meanwhile eliminating unnecessary audio with voice detection. The camera includes three pairs of built-in voice sensors with beamforming technology and two 4K lenses to track speakers up to 10 meters away.
Learn more about the Aver CAM 570 for Teams Rooms.
Yamaha ADECIA Wireless Solution for Microsoft Teams Rooms on Windows
Now certified for Teams, the ADECIA wireless solution simplifies the challenges of implementation, configuration, and room acoustics. Designed to work seamlessly together to reduce set-up time, costs and complexities, it ensures the easiest set-up for the best audio experience thanks to features like auto-detect, auto-setup, and auto-tuning.
This wireless solution bundle includes a processor (RM-CR), wireless access point (RM-WAP8), omnidirectional microphone (RM-WOM) and a wireless charging base (RM-WCH8).
Learn more about the Yamaha ADECIA Wireless Solution for Microsoft Teams Rooms on Windows.
Poly TC10 certified for Microsoft Teams Panel on Android
The Poly TC10 is now certified for Microsoft Teams as a Scheduling Panel. The two-in-one touch panel for room scheduling and meeting control makes it easy to schedule collaboration spaces and join video meetings. The dual-purpose nature of the device means it can be used inside the room to control video calls or outside the room to book meetings instantly. The flexible installation options and single PoE cable provide a clean, simple, and professional set-up.
Learn more about the Poly TC10 panel for Microsoft Teams Rooms on Android.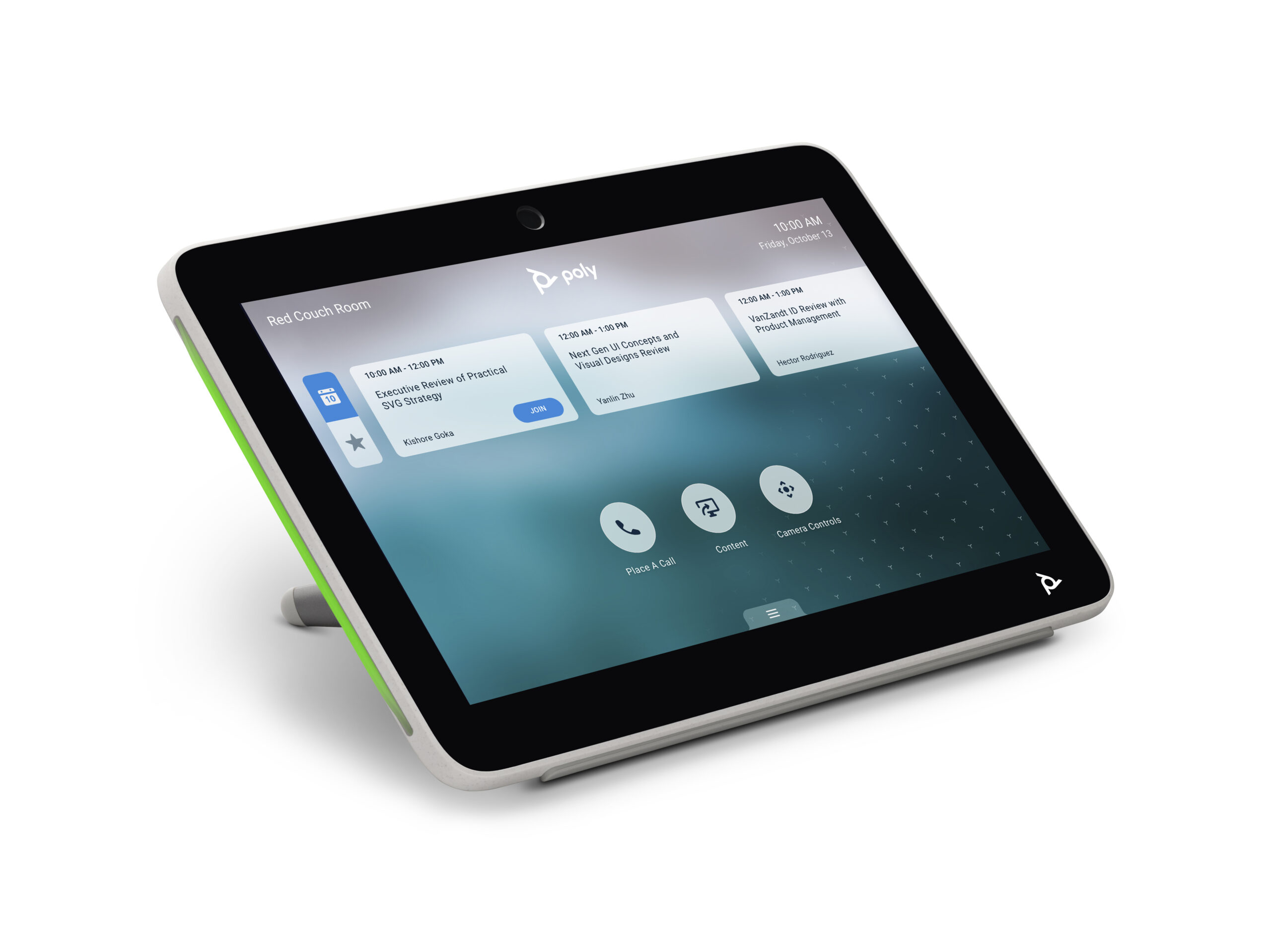 Microsoft Teams IT Admin and Security
Configuration of hotline phones via the Teams Admin Centre
Administrators can now configure hotlines for Teams-certified phone devices through the configuration profile on the Teams Admin Centre. Hotlines enable Teams phone devices to directly dial a pre-configured phone number or contact, such as emergency services in a manufacturing plant or help desk in your organisation.
Learn more about setting up Hotline phones.
Configuration of virtual front desk via the Teams Admin Centre
Teams administrators can now configure virtual front desk settings for Teams displays, through the configuration profile on Teams Admin Centre. The virtual front desk helps you interact with and provide personal assistance to customers and colleagues who are on-site through a video call on Teams displays.
Learn more about setting up Virtual Front Desk.
Stay Up To Date With Microsoft Teams – Free Download
Microsoft is constantly adding new and updating existing features to Microsoft Teams.
If you'd like your business to benefit from Microsoft Teams and the added system integrations that can save time and money, download our short 'SuperCharge Microsoft Teams' guide here or contact us for a free 15-minute consultation and find out how we can support your business with Microsoft Teams. Call us on 0800 032 8274 or book a discovery call here.
Find out more from the Microsoft Teams official blog post here.
About Marlin Communications
Marlin Communications Ltd is a leading UK provider of business communications technology solutions across Voice, Video, Connectivity, Cyber Security and Business Mobiles.
We work with all the major solution providers including Microsoft, Zoom, GoTo, Mitel, Gamma, Yealink, Poly, SonicWall, O2 & Vodafone, to name just a few.
And with our expert team of Solution Consultants, Engineers and Support staff, we're perfectly positioned to partner with you for the long-term and help your business connect, collaborate & grow.
Get the latest tech news & reviews – straight to your inbox
Sign up to receive exclusive business communications, tech content, new tech launches, tips, articles and more.